Honey Glazed Chicken Stir Fry
Kayla C.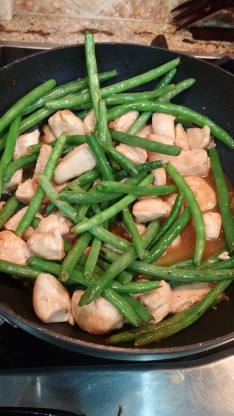 Fast, easy and low fat chicken stir fry. Frozen vegetables can save on time.

This recipe is wonderful! (Though I also had to add another teaspoon of cornstarch!) When stir-frying the vegetables, I sprinkled them with about 1/2 tsp. of ground ginger; it went very well with the honey sauce. I will definately be making this again!
Cut chicken into cubes, set aside.
In a small bowl combine honey, vinegar, juice, soy sauce and cornflour, set aside.
Put oil in wok or large skillet.
Preheat over medium heat.
Stir vegetables until crisp-tender.
Remove vegetables from wok.
Add chicken to hot wok, (more oil if necessary).
Stir fry for 3- 4 minutes or until cooked.
Push chicken to side of wok, add sauce.
Cook and stir until thick and bubbly.
Return cooked vegetables to wok and stir all ingredients together to coat.
Cook and stir another minute or until heated through.
Serve over rice.