Honey Glazed Chicken Breasts (Low Fat)
Stacky5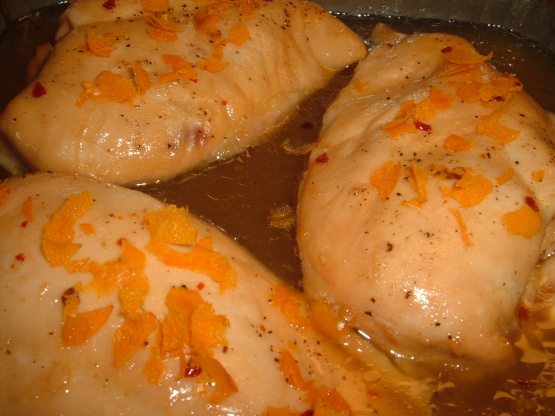 I found this recipe in the Jan 2006 Betty Crocker Simple Winter Meals.

Very good simple low fat recipe. Besides me breast feeding and not wanting to eat too much chilli i really enjoyed this and so did the family =] shame i couldnt eat it all. Ty katie
Heat oven to 375 degrees. Spray a 13X9 inch pan with cooking spray.
Place chicken in pan.
In a small bowl, mix remaining ingredients except orange peel, pour over chicken.
Cover with foil. Bake 20 minutes; turn chicken.
Bake uncovered 20 to 30 minutes longer or until juice of chicken is clear when center of thickest part is cut.
Sprinkle with orange peel.
**crushed red chili flakes is my own addition**.