Parsley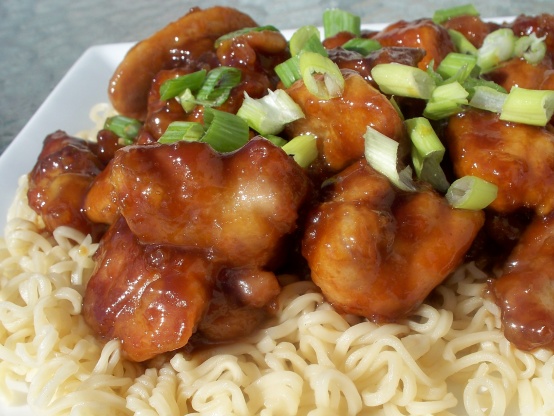 Adapted from recipe found at: http://mykitchencafe.blogspot.com. Haven't tried this one yet, but am eager to! It is nice that it just involves baking the chicken in the oven, instead of having to tend a hot skillet with a toddler underfoot.

Awesome! I made it with drumsticks and they fell off the bone. The only main change I made was using minced ginger (comes in a jar at Whole Foods). The sticky sweet glaze was finger-licking great!
Heat oven to 350. In a shallow dish combine the flower and seasonings, plus salt and pepper to taste. Cut chicken into 1-inch pieces. Dip each piece of chicken in flour mixture and coat evenly.
Melt 2 tablespoons butter in a shallow baking dish, large enough to accommodate chicken in a single layer. Arrange chicken in pan and bake uncovered for 30 minutes at 350 degrees.
Meanwhile, in a small saucepan, melt remaining butter and add honey, lemon juice, soy sauce and ginger.
After chicken has baked the 30 minutes, turn each piece over and pour sauce mixture evenly over chicken. Bake another 30 to 40 minutes basting frequently.
Serve over rice. I usually double the sauce ingredients to make more to serve over the rice.