Honey Ginger Glazed Chicken
Parsley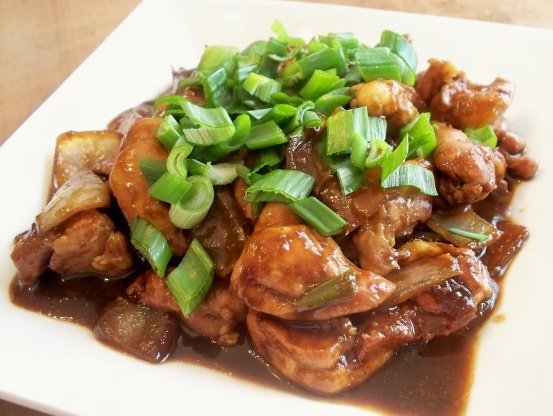 Easily doubles. Serve with rice or fried rice, and stir-fried or steamed veggies for a complete meal.

We really enjoyed this dish! Like Roosie, I had never cooked with five spice powder before (and I was going to leave it out), but thanks to her suggestion I left it in, and I am glad I did. I doubled the recipe and minced 12 cloves of garlic in my mini food processor. I used both the brown onion, and I sprinkled chopped green onions on top when it was done. I didn't find it too salty; it was perfect. I also liked how the sauce glazed up pretty quickly. I cooked it a little longer to try to cook the garlic a bit. I served it with white rice and roasted sesame broccoli. Thank you Sue L!
Heat oil in the wok.
Add onion and stir-fry until golden.
Add chicken and stir-fry until browned.
Add the garlic, ginger, honey, fish sauce, soy sauce, and five-spice powder.
Toss to combine.
Cook until chicken is nicely glazed and heated through.
Place on serving platter and garnish with cilantro sprigs.