Honey & Ginger Glazed Carrots
ImPat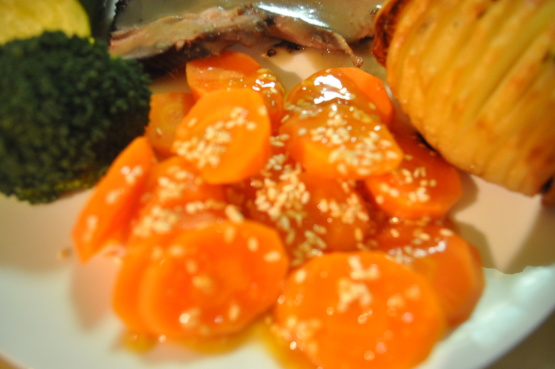 A delicious glaze over boiled carrots. Makes a simple veggie a little special. The carrots can be steamed or microwaved until cooked. The glaze is prepared separately and poured over the cooked carrots to coat. You can either slice your carrots or use whole baby carrots, If you're not a ginger fan then you can use garlic in place of the ginger. If you have an Italian style dish the garlic can be a good substitute for the ginger called for in this recipe
Quick and easy, I love the addition of ginger to the glaze and my husband liked the sesame seeds.
Peel and slice carrots. Boil approx 10 minutes until cooked (or cook to your preference). Strain and set aside. Keep the carrots warm.
Meanwhile -- add the sesame seeds to a hot non-stick frypan. There is no need to add any oil. Toss sesame seeds until toasted. Remove from the heat and set aside.
Melt the butter in the hot frypan. Add ginger and cook for one minute. Remove from heat.
Add the honey, sesame seeds and a pinch of salt and pepper. Stir to soften.
Pour the glaze over the cooked carrots.