Honey & Garlic Pork Chops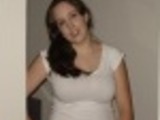 Received from a friend. I'm sure you could use chicken as well for this if you don't like pork chops.
Directions
In lg. skillet, coated with nonstick spray, brown chops on both sides. Cook over medium heat till juices run clear (about 10-12 min.).
In a bowl, combine the honey, lemon juice, soy sauce, and garlic.
Remove chops and keep warm.
Add honey mixture to the skillet; cook over medium heat for 3-4 minutes, stirring occasionally.
Pour over chops.
Most Helpful
Very easy to make, but make sure to cook the sauce long enough. Mine came out too thin because it needed to cook longer. The flavor was very well balanced. I'll try it agian sometime.
My house smells soooo good! Had mom over for dinner tonight and everyone loved this! I screwed up a little and added the sauce to the pork chops before they were done cooking so the sauce burnt a little, but it still tasted awesome!

Wow! We really liked this! They have a wonderful flavor to them. Nothing is dominate. The ingredients blend very well together. I did not remove the chops but just poured the sauce over them. I turned them a couple of times to saute' in the juices. I think this worked just fine. Excellent flavor. Thanks for posting.