Diana 2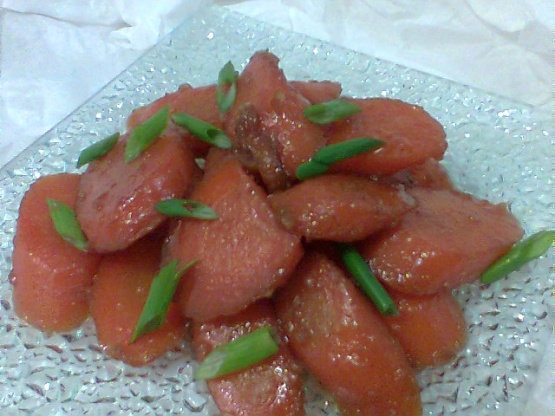 A great side dish that originated because my oldest grandchildren wouldn't eat veggies when younger.

This was just superb! The sauce is delicious and definitely something I will cook again and again. Fresh ginger and garlic must be used. I don't think dried will work as well here.
Peel and slice carrots, I do a two lb. bag.
Place in saucepan with water and cook just till crisp. Drain.
Meanwhile in small saucepan over med. heat, melt margarine and add the brown sugar, stirring to dissolve.
Peel garlic and put through garlicpress into saucepan with sugar mixture.
Stir in soy sauce and grated ginger and allow to simmer 5 minutes stirring to meld the flavours.
Place carrots in serving bowl and pour sauce over top. Stir to combine and enjoy.