Honey Garlic Appetizer Meatballs
reena23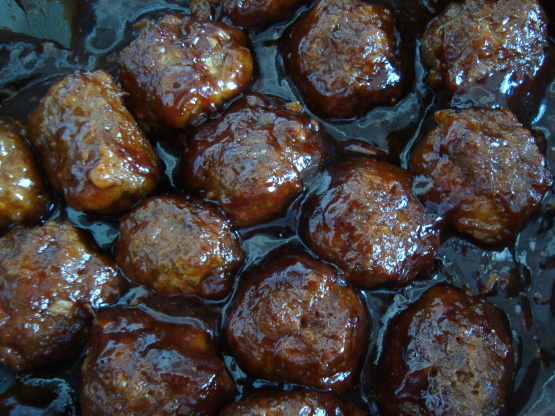 Been making these for years always receiving rave reviews from family and friends. There is quite a bit of garlic in the recipe, but after being sauteed the flavor soaks into the meatballs and sauce.

I changed it up a little but really enjoyed it. I lessened the ketchup and upped the soy sauce and used quite a bit of butter. I put it all in the food processor as I was worried about garlic chunks. We had it that evening at a party and it was good. The leftovers the next night were outstanding.
Preheat oven to 500 degrees.
Mix meat, bread crumbs, milk, onion, eggs,& salt.
Shape into 1" balls.
(the smaller, the better).
Place balls in a single layer on glass baking dish.
Bake for 12 – 15 minutes and drain well and set aside.
Melt butter in a saucepan and sauté garlic until tender.
Add ketchup, honey,& soy sauce.
Bring to a boil, reduce heat, cover and simmer for 5 minutes.
Add meatballs to sauce and return to a boil& simmer uncovered for 10 minutes until sauce glazes meatballs.
These freeze exceptionally well for future party appetizers.
Just defrost and place in crockpot on low for 4 hours.