Jubes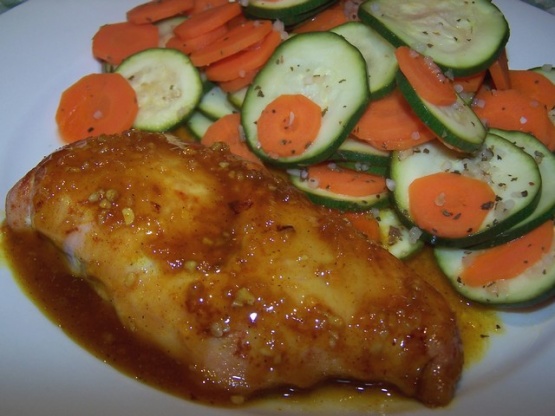 I usually buy chicken breasts from those wholesale places. They are packed boneless, skinless and frozen. The other night I had no idea what to do for dinner and found a delightful recipe on the bag of chicken breasts. This recipe does not require that the chicken be defrosted, it requires minimal work and the chicken came out moist and juicy.

Top Review by SVELTE
Very simple, very fast and super tasty! There is a lot of flavor on this chicken! Subbed lemon juice for lemons and a blackening spice for the paprika. Added a little chili paste to the sauce at the end for some extra heat. Really enjoyed this alongside steamed broccoli and a low fat/skim scalloped potato dish. Very nice, thank you for posting.
Preheat oven to 350 degrees.
Line a 13 x 9 inch baking pan with foil; spray the foil with non-stick cooking spray.
Rinse the frozen chicken pieces under lukewarm water to remove the ice glaze, pat dry.
Place chicken on prepared foil pan and sprinkle with paprika, top with lemon slices.
Place in the preheated oven and bake for 30 minutes.
Meanwhile, prepare the sauce by placing remaining ingredients in a small microwave safe bowl and mixing thoroughly.
Prior to spooning over chicken, microwave sauce for 1 to 2 minutes or until heated through.
After the breasts have baked for 30 minutes, drain and discard juices from baking pan.
Remove the lemon slices and spoon the heated sauce over the chicken.
Return to oven and continue baking for 1o to 15 minutes or until juices run clear when pierced with a fork.
Serve immediately.