skat5762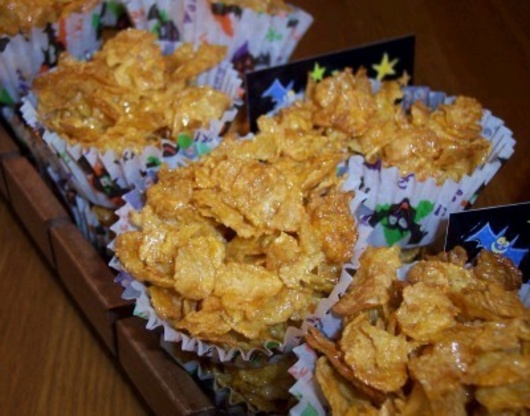 This is our traditional family snack, much beloved even by people who don't normally like cereal. I have taught this one in numerous cooking classes for teenagers, and none have experienced any "failures", so I think it's fairly easy as long as you don't substitute and mix the honey/butter into the cornflakes well.

All I can say is WOW! I was looking around for a dessert after dinner and didn't feel like putting a lot of effort into it - and I really don't like chocolate all that much. This was perfect! I had about 10 oz of Corn Flakes sitting around. I realized (after looking it up) that all of the ingredients were about 1/2 cup. I used 4 tbsp. of Splenda/Sugar mix, but kept everything else the same. I have roughly 12 full muffin size foil cups full. These are just sweet enough for my sweet tooth, SUPER easy to make, and totally delicious! Thank you for sharing!!
4

ounces honey

4

ounces butter (not oil, not margarine)

4

ounces sugar

1

(18 ounce) packagekellog corn flakes (the name brand - not a substitute)
Prepare two sheet pans of foil muffin cups (patty pans).
Separate the paper liners from the foil.
Pour the entire contents of corn flake package into a very large bowl.
Set oven to 350* F.
In a small saucepan, melt the honey, butter and sugar on medium heat.
Do not let it boil: you only want a warm liquid.
Pour onto the corn flakes.
Mix well with a spatula.
Really, really well.
You mix and mix until every one is coated, about 10 minutes.
Lots of little hands can help.
The raw mixture is pretty yummy too.
Over-fill each foil cup.
Set touching each other on the tray.
Bake for about 12-15 minutes, or until the cornflakes are JUST starting to colour.
It will depend on your oven and where your trays are.
If you prefer them less crunchy, take them out a couple of minutes early.
Cool.
Eat.