ClareVH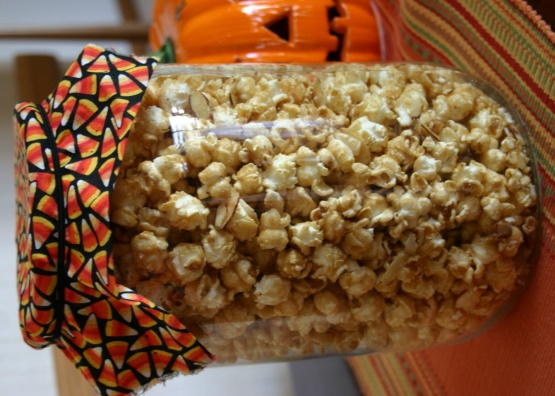 Once upon a time, I found this recipe in the L.A. Times food section. I made it a couple of times, then I lost the recipe. So I wrote to the "Culinary SOS" and requested it. Lo and behold, they printed it in the paper for me and also included it in the book "Dear SOS: Thirty Years of Recipe Requests to the Los Angeles Times". It is fun to make and fun to eat. People think it is "Store-Bought".

Although this takes a little time, it is very easy, much less expensive than what you can buy, and tastes much much better. It would make an excellent picnic dessert. Yummy, yummy, yummy! I have made 2 batches so far. I forgot to add the vanilla the first time and actually think I prefer it that way. I also think I might prefer whole almonds if I had them.
Turn popped corn into a large, shallow roasting pan (I use a disposable aluminum roasting pan); sprinkle almonds over corn.
Melt butter or margarine in a 1-quart saucepan; stir in honey and brown sugar.
Cook, stirring, over medium heat until mixture comes to a boil; simmer without stirring for 5 minutes.
Remove from heat and stir in vanilla; pour mixture over popped corn and almonds and stir until well mixed.
Bake at 250 F for 1 hour, stirring well every 15 minutes.
remove from oven and continue stirring as mixture cools - this keeps the popcorn from clumping up and helps give the "store-bought" appearance.
Cool completely and store in a tightly covered container.