Honey Cornmeal Yeast Bread
sarikat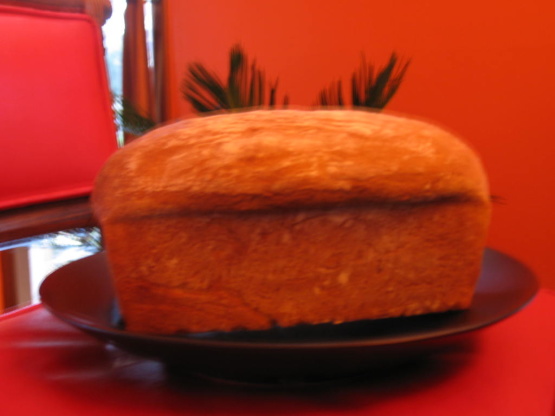 What a tasty combination--honey and cornmeal. It makes wonderful toast in the morning and great sandwiches. I have made this for many years and it always rises perfectly into nice, round loaves. It is easy to make and not too many ingredients.

I am a novice with yeast, so this recipe appealed to me. I could not be happier with how the loaves turned out. The cornmeal and honey flavors are subtle but perfectly balanced. I did cover the loaves with aluminum foil after 20 minutes. The instructions are clear and easy-to-follow, if even I could do it! Thanks so much, Mimi.
Dissolve yeast in warm water and let sit to proof some.
In a large bowl combine the cornmeal and salt.
Heat the milk (about 115 degrees), butter, and honey in a saucepan and add slowly to the cornmeal, stirring all the time.
Add 3 cups of the flour and mix well.
Add yeast mixture stirring well.
Add the rest of the flour gradually to make a stiff dough.
Knead 100 times and place in a greased bowl to rise till double--about 1 hour.
Punch down and rise again till double for about 1/2-3/4 hour.
Turn onto floured counter and divide into two pieces.
Form into 2 loaves and put in greased pans.
Rise again till double.
Bake 375 degrees for about 40-45 minute.
If they start getting too brown, cover with aluminum foil.