gailanng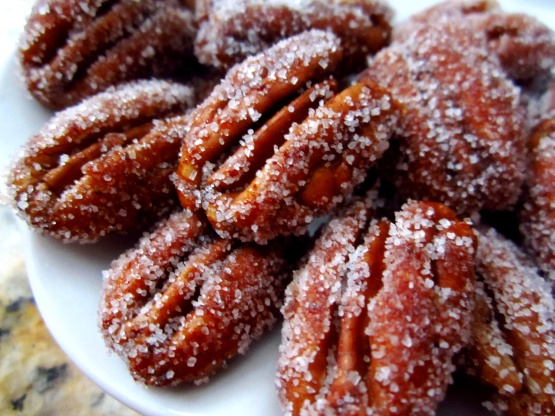 Not your standard toasted nuts; sweet, yet slightly salty, with a flash of smokey fire. Goes great in soups (especially sweet potato or pumpkin) and salads or delicious on their own as a snack or party appetizer.

Top Review by Sandy
Honey-Chipotle Pecans aka crack, or at least they should be. Honestly, you need to give us some warning with a recipe that is so delicious that you find yourself eating a weeks worth of calories before they have cooled from the oven.=) Thank you for sharing a recipe that I will probably make forever!
Preheat oven to 325°F.
In a skillet, warm honey with chipotle powder and cinnamon over low heat, then add the nuts and stir to coat evenly.
Line a baking sheet with parchment paper, then spread nuts evenly in a single layer on the sheet.
Bake in preheated oven until nuts are fragrant (10-15 minutes).
Allow to cool slightly (1 minute).
In a mixing bowl, combine sugar and salt.
Add the warm pecans, and toss to coat evenly.
Spread out on fresh sheet of waxed paper and let dry completely.
Store in an airtight container.