jenne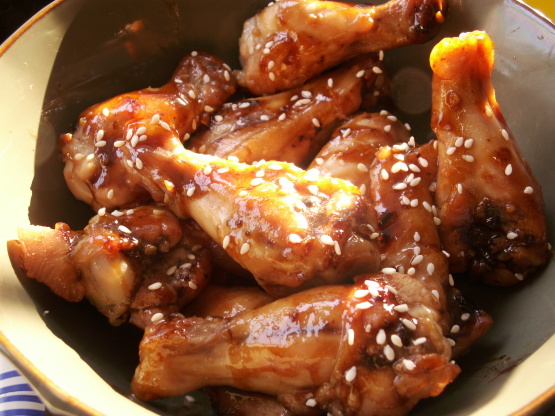 A recipe I got from a work mate back in the early 80's. Very simple and very tasty. I usually double the quantity as this is really only for 2 people.

Top Review by DbaiG
Chicken wings, a temptation for all! Busyozmum, I love to eat wings so try different recipes off and on. Most of the time I preferred to deep fry the wings rather than baking or grilling. Your recipe seems to be delicious one. I will give it a try to have hot, spicy and sweet flavoured wings while omitting sherry wine and replacing it with hot sauce.<br/><br/>DbaiG<br/>Bolee.com
Juice the lemon half. Mix together all the ingredients except for chicken wings.
Place chicken wings into a shallow roasting dish and pour on half the marinade. Allow to stand (in fridge) for approximately 20 minutes.
Prepare a moderate oven (180C) and cook chicken wings for about 15 minutes. Brush on the remaining marinade and return wings to the oven to complete cooking, approximately 30-35 minutes in all.
Serve with green salad and herb bread.