ImPat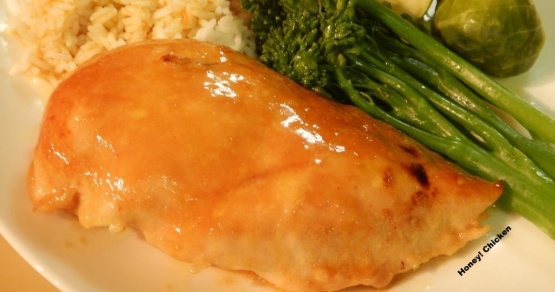 I just love chicken...this is an easy, fast, tasty dish to prepare with few ingredients. It makes lovely moist, tender and crispy chicken breasts. This lovely simple dish is very versatile, if you'd like to add garlic, shallots, sweet onion, red pepper flakes, candied ginger or herbs by all means do so. My dh & I eat a lot of spicy dishes so every now and then we enjoy a simpler, subtler fare.

Since I'm a big fan of honey-mustard anything, I found the sauce in this quite simple recipe to be very tasty! I added a little minced garlic, then doubled the sauce ingredients & served it over brown rice along with green beans & cauliflower [loved the sauce with the rice & the beans & the cauliflower!!]! Thanks much for posting this recipe!
Preheat oven to 375 degrees fahrenheit.
In a 9 x 13 inch baking dish combine the butter, honey and mustard.
Put baking pan in oven to melt butter, making sure to blend everything together well.
Next roll chicken in butter mixture.
Place in baking dish with skin side down.
Bake for 45 minutes in preheated 375 degree fahrenheit oven; baste every 15 minutes with sauce.
After 45 minutes turn chicken and bake 30 minutes more until crispy.
Serve with garlic mashed potatoes and green beans.