Honey Cake W/Cinnamon Cream Cheese Frosting
Sarah C.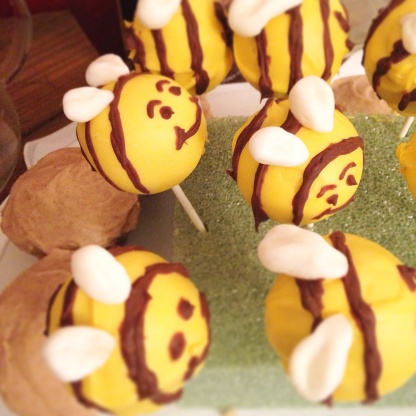 Every Friday night I bake a cake. And this time around, I asked my 3 year old what kind of cake I should make. He had a biscuit w/honey at lunch, so his reply to me was "Honey Cake". I checked the Zaar, and found a promising recipe for Honey Cake and decided to change a few things here and there.

This cake was good but not great. I did a LOT of winging so there's a pretty good chance that it's my fault and not the recipe!! I only had 2 cups of white flour so I subbed wheat for the rest; didn't have pumpkin pie spice so I winged that (and probably didn't use enough); eyeballed the amount of honey I put in because it was difficult to scoop from the container; made this around 9 p.m. after a full night of cooking so I wasn't super exact or concerned with anything! Despite all of my winging, though, it did turn out to be a pretty good cake. It reminded me and hubby more of a coffee cake consistency-wise than a dessert type of cake so he has been enjoying it every morning at work : ) Next time I make this I will be a bit more precise with the recipe to see if it turns out differently. I'm also planning on at least doubling (and maybe tripling) the frosting recipe. I baked mine in 2 layer pans and would've had enough for the top and side icing but not enough for a filling between the two layers.
Preheat oven to 350. Grease 2- 9" cake pans.
In a separate bowl, mix all dry ingredients, excluding sugar.
Using the whisk attachment of a stand mixer, whisk together all wet ingredients and sugar and medium speed. Add eggs one at a time until well blended.
Turn mixer to low, and add dry ingredients in batches until well incorporated You may need to scrape down the bowl a few times. Make sure to scrape up the bottom of the bowl too! (I use a 6 qt, so you may not need to do that!).
Turn on medium for about 30 seconds.
Bake for 45 minutes or until toothpick comes out clean. Remove pans from oven and set pans upside down on a cooling rack. Let cool for at least 10 minutes before attempting to remove pans.
Fully cool before frosting.
For the frosting:.
Using room temperature cream cheese and butter, use paddle attachment on mixer and cream items together. Add Cinnamon and Vanilla.
Add confectioners sugar slowly in batches with mixer on low speed.
Add milk one tablespoon at a time until you've reached the desired consistency.