gailanng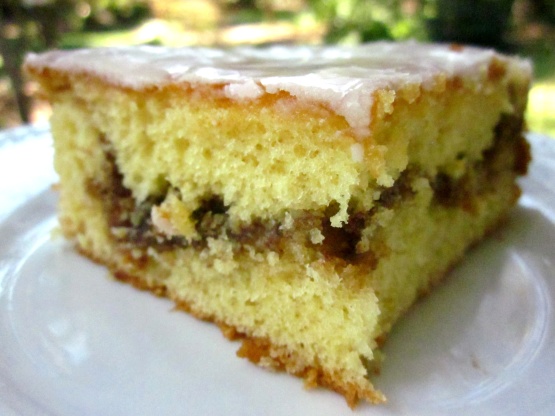 This recipe is from an old Betty Crocker cookbook that was a wedding gift. It has never failed to please.

Top Review by moe13a
OMG! OMG!! OMG!!! This was perfection and so easy to make. It took a little more effort to smooth the second layer on but that is what a spoon is for. It tastes so good that I ate some everyday for dessert. You'll probably have a little brown sugar mixture left over after sprinkling it on so you may want to just add the extra to make it a little sweeter or just hold off. I read that a few people complained about the color and thickness of the glaze but the gaze had vanilla so it's not pure white and also it is glaze NOT frosting or icing.
Add cake mix, oil, eggs, and sour cream to a large mixing bowl.
Beat with an electric mixer on medium speed until well mixed.
Spread half of the batter into a greased 13x9 inch baking pan.
In a smaller bowl, add the brown sugar, pecans, and cinnamon; stir to mix.
Sprinkle mixture evenly over the batter.
Spread the remaining batter over the pecan mixture.
Bake at 350 degrees for about 45 minutes or until golden brown.
In a bowl, stir the powdered sugar, milk, and vanilla until it is thin enough to spread.
Take a toothpick and prick the surface of the warm cake several times.
Spread the sugar glaze over the cake.
Let cool for 1 hour.