Honey Browned Trout ( Candy Trout )
Peter J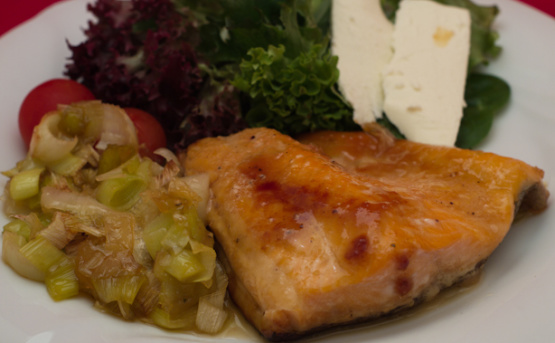 Title caught your interest? My family loves trout so I wanted make something different than fried or Almondine or baked lemon and butter. Sweet, bu the garlic comes through nicely. Hope you enjoy. I used 1 pound fillets of local Steelhead ( Hatchery ).

Very good. We also use this with a foil boat on the bbq with salmon and steelhead.
Heat oven to 350°F.
In a food processor or blender combine honey, garlic, salt, pepper and olive oil. Puree/process until well mixed. (Will look like slightly melted whipped butter).
Spray a shallow baking dish with non-stick cooking spray, or lightly butter (your choice). Place fillets in dish.
Brush on the honey sauce, trying to use it all.
Sprinkle with brown sugar, covering the fillets.
Bake (my fillets took 30 minutes to be done) until fillets are golden brown and the sugar has caramelized.
Serve warm.