GaylaJ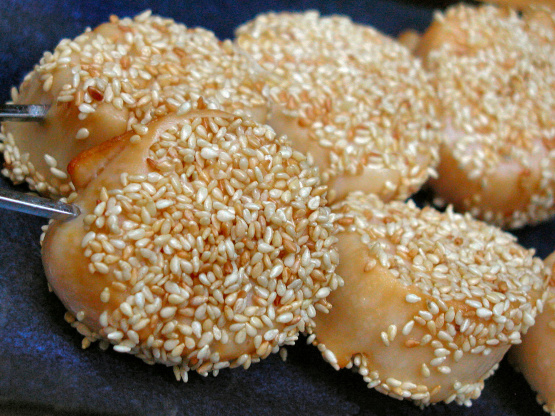 These are great broiled as instructed, but I am also anxious to try them on the grill. Don't skip the sesame seeds--I think they make the dish. Prep time includes time to marinate. Recipe from Fisherman's Express.
Combine lime juice, oil, honey, soy sauce and ginger. Add scallops and toss to coat. Cover and refrigerate 1 hour, stirring occasionally.
Remove scallops from marinade, reserving marinade, and thread evenly on 4 skewers.
Place skewers on shallow baking pan that has been sprayed with non-stick coating (or line with non-stick foil for easy cleanup).
Broil 4-6 inches from source of heat 2-3 minutes. Turn and baste with reserved marinade and continue cooking 2-3 minutes, or until opaque throughout.
Place sesame seeds on waxed paper and roll each skewer over the seeds to evenly coat scallops.