Honey Brined Herb Roasted Turkey
Bri22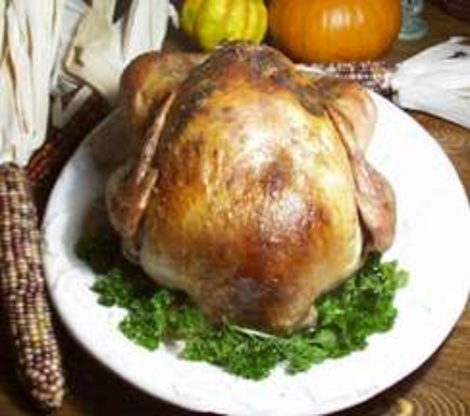 Allow 12 - 18 hours for the turkey to marinate in the brine. It's worth the wait as this process always assures a moist, flavorful turkey.

Top Review by PanNan
I had never brined the turkey before. Wow! What a difference. We loved this recipe! I left the turkey in the brine for 1 1/2 days and let the turkey dry in the refrigerator for another day. Before baking it, I made a mixture of garlic, fresh lemon juice, olive oil and lemon pepper seasoning and put it under the skin of the turkey. Then, I rubbed the exterior of the skin with a mixture of olive oil and fresh lemon juice. The whole family said it was the best turkey we've ever had. Thanks for a great recipe.
Remove giblets and neck from turkey, reserve for gravy. Rinse turkey with cold running water and drain well. Blot dry with paper towels.
Prepare brine by mixing water, honey and salt in a large bowl. Stir until honey dissolves. Add half the thyme and sage along with the garlic and black pepper. Set aside. Add chicken stock.
Line an extra-large stock pot with a food-safe plastic bag. Place the rinsed turkey in the bag and pour brine over the turkey. Gather the bag tightly around the turkey, causing the turkey to be surrounded by the brine. Seal the bag and refrigerate the pot, bag and brined turkey for at least 12 hours.
Pre-heat oven to 350°F Remove turkey from brine and pat dry inside and out. Discard brine. Place turkey, breast side up, on a rack in a large shallow (about 2 1/2" deep) roasting pan.
Squeeze lemon juice into the main turkey cavity. Put the squeezed lemon halves into the cavity along with the rest of the thyme and sage. Coat turkey lightly with oil and sprinkle inside and out with salt, pepper.
Insert an oven safe meat thermometer into the thickest part of the thigh, being careful the pointed end of the thermometer does not touch the bone. Roast turkey, basting with poultry stock every half hour or so.
Loosely cover with aluminum foil to prevent over browning, remove foil during last hour and a half of cooking time. Continue to roast until thermometer registers 180°F in the thigh, or 170°F in the breast.
Remove turkey from the oven and allow it to cool for 15-20 minutes before carving.