Honey Bran English Muffins (Bread Machine)
Erin R.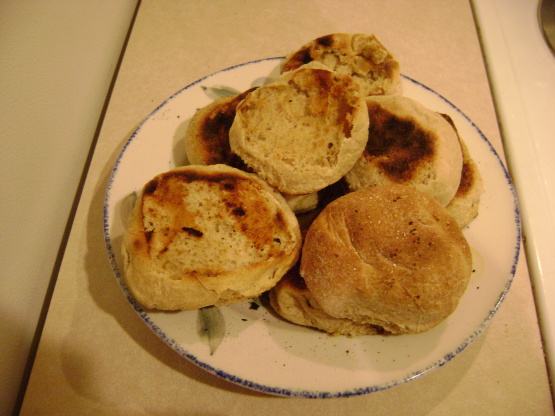 Sightly sweet and nutty, these Englis muffins stick to your ribs with out being too heavy. From Electric Bread.

Ooh, wow! I wasn't completely sure about this one but they came out great, with that coarse texture I'm used to with grocery store english muffins. I'm afraid I burned the crap out of the first several, but after I scraped the black part off they were wonderful inside. I ended up baking the last several in the oven and they came out perfect. I did use one cup of whole wheat flour because I love it. I will make these again for sure. Thanks a bunch, Bev.
Combine according to your manufacturer's directions using the dough or manual cycle.
Remove dough from the machine after the dough or manual cycle is completed.
Turn dough out onto floured surface.
Divide into 12 portions.
Shape each into a ball, then press into 4" circles about 3/4" high.
Grease baking sheet and sprinkle with half the oat bran, then place muffins 2" apart.
Spritz with water and sprinkle with remaining bran.
Let rise until doubled, about an hour.
Grease electric skillet or griddle and preheat to 325 degrees.
or medium heat.
Carefully place muffins in skillet, then cook about 6 minutes on each side or until brown.
Cool.
Success Hints: For Raisin Muffins, add 1/3 cup of raisins and 2/3 tsp of cinnamon.