Honey-Bourbon Brine for Steaks
Rita1652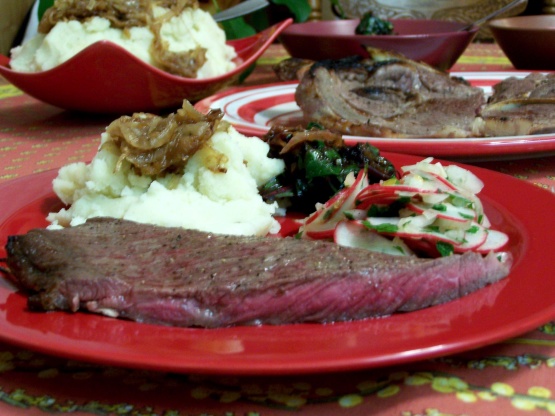 Just wait until you taste your steaks with this brine, you will be in heaven lol! it's a fantastic brine for steaks and also any cut of beef. The brine is enough for 6 (1-inch) steaks or a few less thicker steaks. Do not brine the steaks anymore than 6 hours, 8 hours maximum, and please DO NOT brine for 24 hours! The steaks must be left out on the counter for a couple of hours to bring down to almost room temperature, this is an important step to relax the meat fibers, this will create a more tender and juicy steak, so start this recipe early in the day. Use kosher salt *only* for this brine!

THIS IS MY NEW FAVORITE ZAAR RECIPE!! I have brined pork, turkey and chicken, thought I'd look for a beef brine-FOUND IT!! We had these huge 2" thick N.Y. Strip steaks that I brined. I added crushed red peppers because we like a little heat. Used this awesome local honey and brined then grilled. OMG YUM! Tasted like prime rib. The second time I made it I used some fresh sliced jalepeno-seeds and all. This is better than any steak marinade! Kitten, this recipe is awesome!! Thank You!!! ~Andi
2 1⁄2 cups water (room temperature)
1⁄3 cup bourbon whiskey
1⁄3 cup honey

3

tablespoons kosher salt (use kosher salt only!)

1

tablespoon chopped lemon zest

1

teaspoon black pepper (more to season the steaks before cooking)

2

tablespoons coarsely chopped fresh garlic (can use more)

6

boneless beef steaks (about 1-inch thick)
In a bowl combine water with 1/3 cup bourbon, 1/3 cup honey, kosher salt, lemon zest and black pepper; stir to completely dissolve the salt, then add in the garlic.
Place the steaks in a large resealable plastic bag and set in a shallow dish.
Pour the brine over the steaks then seal the bag.
Toss bag to coat the steaks in the brine.
Place in refrigerator for 6-8 hours (no more than 8 hours!) tossing the bag occasionally making certain that the meat is covered with the brine.
About 2 hours before cooking the steaks, remove steaks and discard the marinade.
Rinse the meat VERY well under cold water and place on a plate/s.
Let the beef sit our on the counter for about 2 hours or until almost room temperature (THIS IS IMPORTANT! the steaks must come down to room temperature before cooking!).
Season the steaks with only black pepper (salt the steaks after cooking).
Place the steaks on the grill and grill to desired doneness (or steaks can be oven-broiled).