Honey Blueberry Citrus Splash
Suzie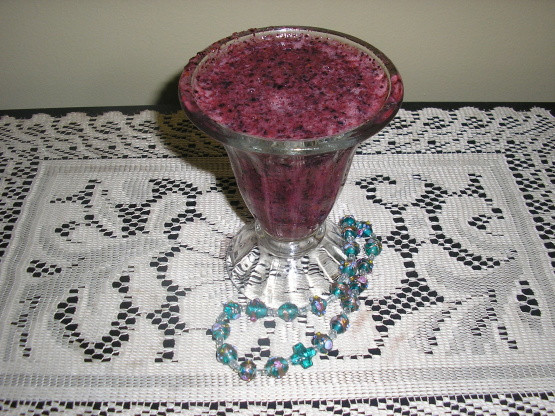 This recipe is from a booklet I received from our local farmers market. Loaded with wonderful recipes and so thought I would share.--

I halved the recipe and made a nice large smoothie for breakfast. I thought I had a bag of just frozen blueberries in the freezer but it turned out to be it was an antioxidant blend of wild blueberries and pomegranate seeds. As for the honey, I used raw wild flower. I peeled an orange and placed it in the blender along with the measured amounts of the remaining ingredients and blended until well combined. The sweetness of the honey combined with the tartness of the citrus was so refreshing. I will definitely be making this smoothie again in the future. Made and reviewed for the 64th AUS/NZ Swap.
In a blender, combine the orange juice, honey, lemon and lime juices until honey is dissolved.
Add blueberries and ice.
Puree.
Serve beverage glasses garnished with a lemon or lime wheel.
Heaven!