Honey BBQ Wings Like Kfc's
teresas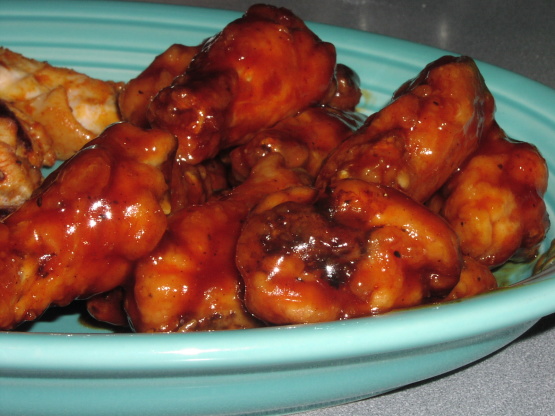 Resturant style breaded and fried wings with a sweet barbeque sauce to coat.

OMG! These are so good!...I've had the Kfc's ones once before and I'm totally sure they didn't taste like these...these are so darn yummy! The whole family raved about them...they are saucy on the outer layer...crispy and crunching on the next layer and tender and juicy on the final layer...a true delight to eat...this is a keeper for sure...a must try by all...thanks for posting it...made for My 3 Chef's tag game...:)
In a shallow dish, combine flour, salt, and pepper.
Coat chicken in flour mixture; refrigerate for 1 hour; coat chicken again with remaining flour mixture.
In a small saucepan, heat BBQ sauce and honey until warm; turn heat to low and keep warm.
Deep-fry chicken, 8-10 pieces at a time, in 375 degree oil for 13 minutes.
Drain chicken on cooling racks.
Immediately toss fried chicken with BBQ sauce mixture.
Repeat with remaining chicken.