KateL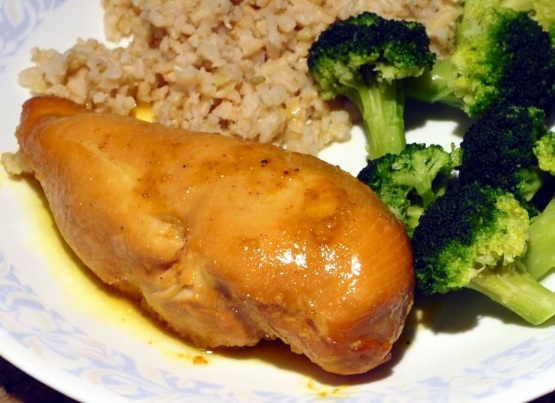 This is like dessert chicken. So yummy and my kids love it. Best with fresh rolls to soak up extra sauce.

Top Review by danpas
Just finished eating twenty minutes ago. This is a fantastic recipe. The sauce is delicious. I used only 2 skinless boneless chicken breast but kept the proportions for the sauce and did what others did, drizzle the rest on Basmati rice. Also, only cooked the breasts for 40 minutes. Perfection. This one's a keeper.
1⁄2 cup butter, melted
1⁄2 cup honey (I use raw honey, taste better)
1⁄4 cup mustard
1⁄2 teaspoon salt, and a little fresh ground pepper for taste

1

teaspoon curry powder
Preheat oven to 350 degrees F (175 degrees C).
Place chicken breast in a baking pan.
Melt butter, honey, mustard, salt and curry powder in pan and pour the mixture over the chicken. Bake in the preheated oven for 1 1/4 hours (75 minutes), turning every 15 minutes, until the chicken is nicely browned and tender and the juices run clear.