Honey and Black Pepper Steak
ImPat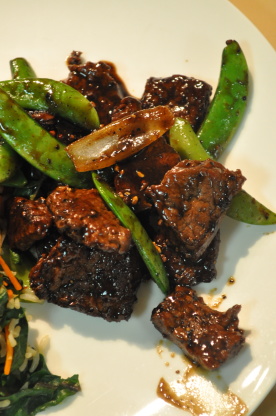 Another one of the quick and delicious meals I would rather make than buy expensive take aways. We reduced the amount of pepper from the original recipe, so feel free to add more if YOU wish.

Oh boy! What can I say but try this! I used rump steak and followed the directions as written. Hubby is not that keen on rice but when I asked what he thought, his exact words were B****Y fantastic! A new favourite, thanks Jan! =)
Heat a wok until very hot, then add half the oil, swirling to coat.
Fry the beef in batches for about 3 minutes each batch or until browned.
Reheat the wok, and add the rest of the oil, and stir fry the onion and peas until softened.
Remove.
Add the honey, sauces and pepper, bring to the boil and simmer for about 3 minutes to reduce and thicken a little.
Return the meat and vegetables to the wok, and toss for about 3 minutes to heat and combine.
Serve at once over rice.