Honey and Balsamic Oven-Roasted Carrots and Parsnips
Redsie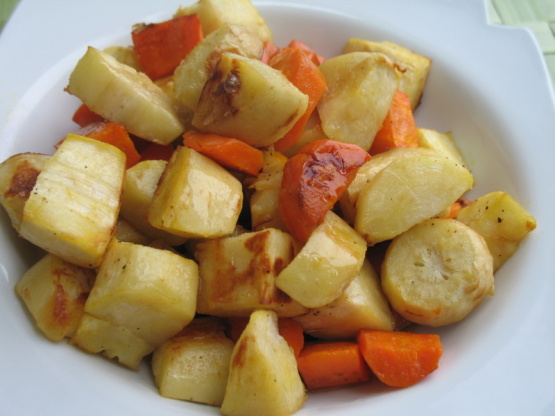 I never ate parsnips before, but my CSA handed me 4 lbs this week. Made this recipe for dinner tonight with pork chops and Waldorf Salad. I i did use only half the butter, and that worked just fine. This recipe meets all my criteria....easy, healthy and delicious--and no question I will be making it again.
2

lbs carrots, peeled and corasley chopped into about 2-inch pieces

2

lbs parsnips, peeled and coarsley chopped in about 2-inch squares

6 -7

tablespoons olive oil
salt and pepper

4

tablespoons butter

4

tablespoons honey

3

teaspoons balsamic vinegar
Set oven to 400 degrees.
Line a baking sheet with foil.
Place the veggies in a large glass bowl and drizzle with olive oil.
Season generously with salt and pepper; toss well to combine.
Spread the veggies on a baking sheet.
Bake the veggies for about 20 minutes.
Remove and toss the veggies, then return to oven for about 15 minutes longer or until tender.
Melt the butter in a small saucepan, then stir/whisk in honey and balsamic vinegar.
Drizzle the honey glaze over the veggies.