Homestyle Chicken and Corn
Debber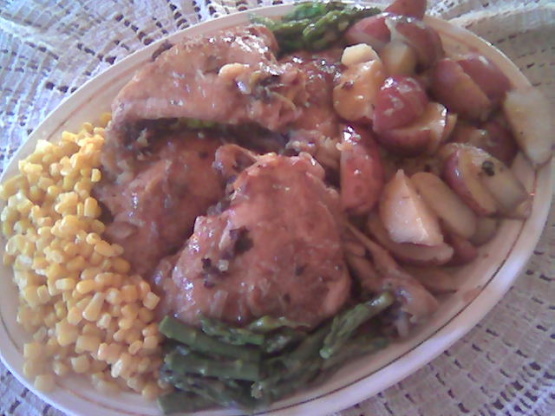 From Betty Crocker cookbook.

Top Review by Debber
We eat a LOT of chicken (we raise our own pastured poultry), and this recipe is just about the STANDARD OF PERFECTION if you ask me! It is SO easy, and so juicy (without being watery), and the whole thing has a simplicity that makes it quite a classic. We served corn kernels on the side ("someone" used the last pkg of home-grown corncobs from the freezer and didn't tell me!), but I poured some of the self-made gravy over the corn (along with the fresh asparagus), and it was darn-near perfect. I used about a pound of fresh baby red potatoes (quartered) and they turned out beautifully, too. I had to add about 1/3 cup more of water, too, about half-way through the cooking time. I'm pretty sure we will be eating this sort of stuff in Heaven someday! Can't wait!
Melt butter in 4 quart non-stick Dutch oven over high heat.
Cook chicken, onion, 1/2 teaspoon of the seasoned salt and the pepper in butter 10 to 15 minutes, turning chicken occasionally, until chicken is light golden brown. Stir onions to side of Dutch oven if they start to burn.
Reduce heat to medium-high. Add water, corn and potatoes to Dutch oven; sprinkle remaining 1/2 teaspoon seasoned salt evenly over top.
Cover and cook 15 to 20 minutes or until juice of chicken is no longer pink when centers of thickest pieces are cut.
Remove chicken and corn to serving platter, using tongs.
Gently stir potatoes with onions and pan juices; spoon onto serving platter.