Homemade Vegetable Beef Soup
Bergy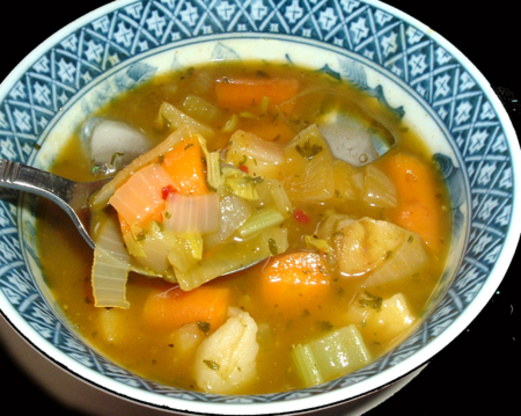 just beef stock, no meat required. but it must be leftover/homemade stock.
1

cup celery, chopped

1

cup onion, cut into wedges and broken apart

1

tablespoon oil

6

cups homemade beef stock (really it is not worth making this recipe unless you have your own stock to use)

2

cups potatoes, cubed

2

cups carrots, sliced in chunks

1

cup parsley, finely chopped

1

cup cream (optional)

1

cup parmesan cheese, grated (optional)
in a large pot, brown the onions and celery in the oil.
add all the other ingredients (except cream and cheese).
bring to a boil.
reduce to a simmer, and cook for 20 minutes or until the potatoes are done.
if you prefer a creamy soup to a clear one, add the cream now and let it cook in for 5 minutes.
serve with a little parmesan cheese on top.