Homemade teething crackers
Soup Fly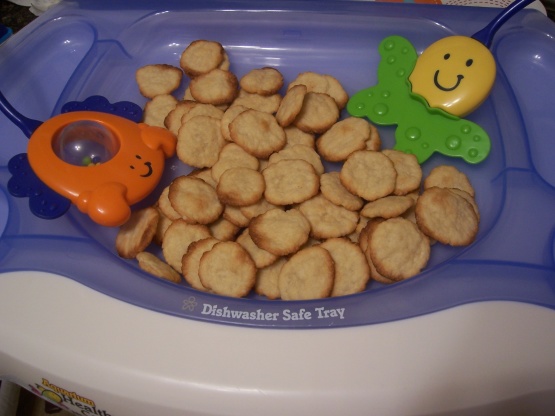 The recipe is basically good. I made just one change - instead of water I used juice to bring the dough together. Added just a touch of sweetness and flavor. And I also cooked them until they were like hockey pucks. At 350 til golden brown, then down at 200 until hard enough I couldn't bite them apart easily. So far my 8 month old hasn't been able to crumble one, instead it sorta mushes off as he sucks/gums it.
236.59

ml flour

236.59

ml dry infant rice cereal with bananas (or other flavored or unflavored infant cereal)

44.37

ml cooking oil
ice water
Preheat oven 425 F degrees.
Mix flour and cereal.
Gradually stir in oil.
Mix a little ice water at a time (start with 1/4 cup) until dough begins to form a ball and pull away from the bowl.
Roll out to the thickness of a cracker on a floured surface and cut into desired shapes.
Bake on an ungreased cookie sheet 10-12 minutes or until lightly brown.
Cool completely.
Store in an airtight container.