Homemade Sweet and Spicy Barbecue Sauce
DuChick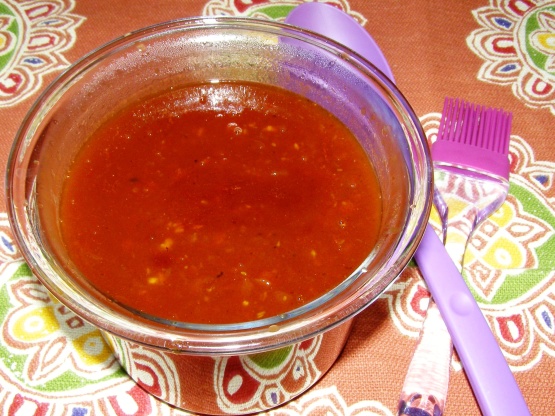 I have made this for years, with a little tweak here and there and finally think I have it perfected. It has just enough bite from the vinegar, but a subtle sweetness too. I make quadruple batches and store it in old mayo jars in my garage fridge for quick meals. The longer you simmer it, the better it gets!

Awesome BBQ sauce! I totally trusted you as I prepared all of the ingredients for this recipe...many I'd never used in a barbeque sauce before. It all came together to produce a wonderful, aromatic, thick sauce that I brushed over a rack of ribs on the grill. I've used some of the leftover sauce on chicken and it's just as good! We will enjoy this again! MERP'd for Fall PAC '12.
Melt butter in a large stewpot over med-high heat.
When the bubbling subsides add the onions all at once.
Sprinkle with the salt and cook for 5-8 minutes, stirring often, until golden.
Add the garlic and cook for another minute until fragrant.
Add the syrup, molasses, vinegar and catsup. (At this point I use a hand blender to puree the onions, but this is optional).
Bring to a boil, then reduce the heat to med-low.
Add the remaining ingredients and continue to simmer until thick and bubbly, at least 30 minutes. The longer you simmer it, the better it will be.