Homemade Spicy Tortilla Chips
Linajjac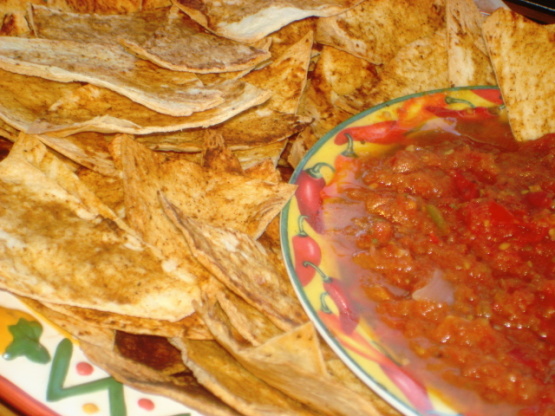 Quick, easy, small-batch tortilla chips. Easy to double, triple, etc.

These chips are absolutely delicious! Loved the addition of lime juice! I was about to throw out a package of tortillas. So glad I didn't! My chips were done in 7 minutes. After that, they burn fast! Next time, I'll do cumin and lime juice! Or a mix of both. Yumm! Thanks for sharing! :) I made these for, #280274
Combine salt, chili powder and lime juice in a cup; mix well. Brush lightly over each tortilla. Cut each tortilla into 8 wedges. Spread tortilla wedges in a single layer on a baking sheet sprayed with nonstick cooking spray.
Toast in a preheated 400° oven for 7-9 minutes or until chips are lightly browned and crisp.
Remove from oven. Cool. Chips will firm up as they cool.