Homemade Sloppy Joes or Hot Dog Chili
Redsie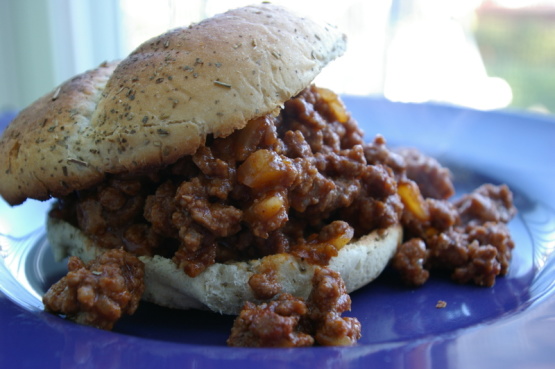 I never really liked store bought sloppy joes because of the onions. So when I was teenager I came up with my own version without them. Over the years I have fiddled with the recipe to make it even more delicious. My dad uses it as his hot dog chili. Each to their own.

I doubled this recipe for a church small group gathering. To save a little time & effort, I used 2 packets of mild chili seasoning. With the Bold Y Spicy A-1 I had on hand, the spice had just enough kick. I simmered it longer, so I did end up having to add a little more water.
Brown the beef in a large frying pan, breaking it into tiny pieces.
Drain any excess fat then stir in the rest of the ingredients (except for the buns) with the beef. Simmer on medium heat until the mixture is thick, about 10 minutes.
Serve on hamburger buns or over hot dogs.