Homemade Sazon(No, It's Sofrito!)
Rita1652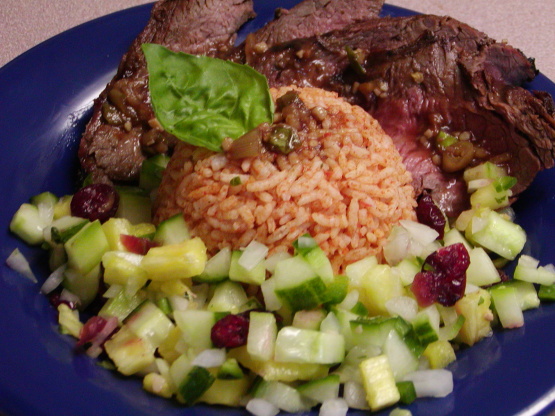 Sazon is a common seasoning used in Caribbean cooking and also in Spain. Try this homemade version! Two reviewers have told me this is actually a sofrito, that sazon is a dry mix. I'm so sorry if I have offended anyone. I don't remember where I got this(some magazine long ago), so they were misinformed. I do hope you enjoy it anyway!

@chefbrad Actually sazon, before goya came along and made a brand out of a very loose spice mix, meant nothing but its literal translation "season". People that arent to familiar with its history in carribean/hispanic cooking think its an actual recipe, but its very loose. It can mean any kind of seasoning. Goya sazon does add kick but people dont realize that it is nothing more than slightly altered seasoning salt with annato. Contrary to what people may say it doesnt do wonders to an already bad dish. Its over hyped, esp. by young hispanics, because its thought of as a rare ethnic ingredient.
Combine all ingredients in a blender; process until smooth.
Pour into a saucepan; bring to a boil.
Reduce heat, and simmer, stirring constantly, 5 minutes or until thoroughly heated.
Remove from heat; cool.
Cover and chill.
Yield: about 1 cup.