gailanng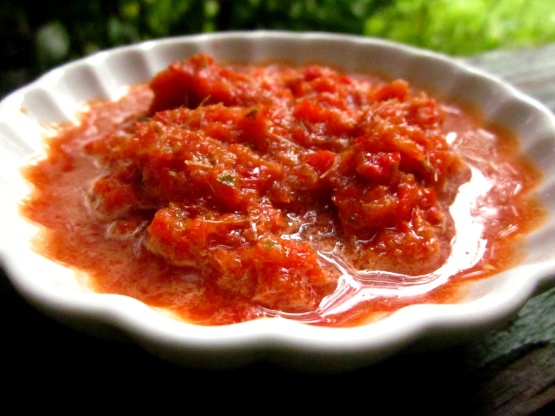 A staple in Malaysian and Thai cooking. Oelek means grinding so sambal oelek means ground chilli sambal! This can also be frozen.
Firstly I'd like to straighten things out, sambal oelek is from Indonesia - but the spelling is old Dutch, where the first 'sambal oelek' brand was introduced. The word is javanese origin, meaning ground by stone mortar. There's no 'oelek' word in Malaysian....

Secondly, right about the sugar amount used in this recipe. Way too much. Besides, the real sambal oelek used brown palm/coconut sugar.
Blend the chillies, garlic, ginger and lemon grass in a food processor or mortar and pestle.
While processing gradually add the vinegar.
Place the pureed mixture into a saucepan and bring to a boil.
Reduce the heat and simmer for 3 minutes.
Add the sugar and stir until dissolved.
Add the salt and lime zest.
Remove from the heat, cool and bottle in sterilised jars.