Homemade Salsa and Fried Tortilla Chips With Seasoning - Deen
PaulaG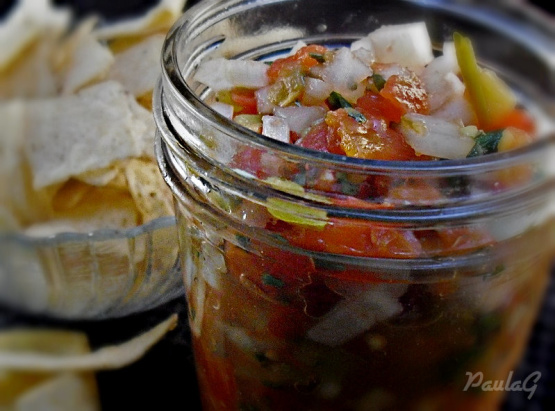 Courtesy of Paula Deen and Food Network.
Top Review by PaulaG
My review is for the salsa only. It is nice to know that salsa can be made quite easily at home with canned ingredients when necessary. I used a can of dice cut tomatoes in lieu of fresh and drained them as well as the can of tomato and green chili. The liquid was reserved and some of it was added to the finished product. I love the various suggestions on how to change up the recipe. Some freshly chopped cilantro was my only addition. Made for PAC Spring 2012.
3

large ripe tomatoes, diced or 1 (14 ounce) can diced tomatoes with juice

1

small onion, finely chopped

1

small green bell pepper, seeds and veins removed, and minced

1

(4 ounce) canchopped green chilies, with juice

1

garlic clove, minced

2

tablespoons red wine vinegar

1

tablespoon olive oil

Other ingredients you may want to add to Salsa

1

small red onion, finely diced

2

(15 ounce) cans black beans, drained and rinsed

1

large avocado, peeled and diced
salt & freshly ground black pepper

1

mango, peeled and diced
1⁄2 cup pineapple chunk

2

limes, juiced

Fried tortilla chips

8

fresh corn tortillas
oil, for frying

House Seasoning

1

cup salt
1⁄4 cup black pepper
1⁄4 cup garlic powder
Salsa:.
Combine all ingredients, and any extra ingredients you may want to add, in a large glass bowl.
Stir well with a spoon.
Cover with plastic wrap and chill until serving time.
Tortilla Chips:.
Arrange the tortillas in a stack and cut into 6 equal wedges.
Pour about 1-inch of oil in a large frying pan over medium-high heat to 350 degrees F on a deep-fat frying thermometer.
Fry just a few at a time, turning occasionally, until crisp and lightly browned, about 1 minute.
Drain on paper towels; sprinkle lightly with salt, if desired.
Store in an airtight container.
House Seasoning:.
Mix ingredients together and flavor chips to taste.
Store leftover seasoning in an airtight container for up to 6 months.