Karen R.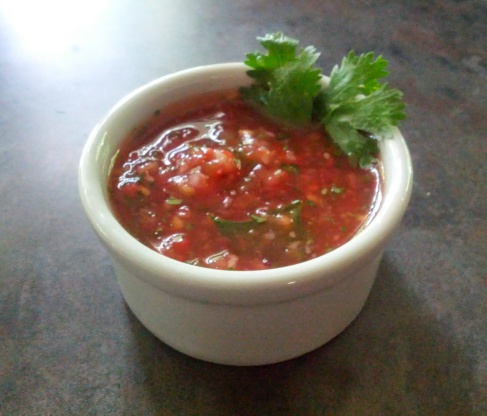 I hate buying the jarred store bought so called salsa. So I began tweaking here and there and this is yumm-O. My husband likes it really hot so I add in Habaneros for him. Just delicious. I hope you enjoy it.

This is really tasty and I love the ease of using the food processor to make it. It tasted good right away since it was somewhat blended. I seeded my jalepeno, did not add the habenero and used LOTS of cilantro. I like both mild and hot salsa so will make it hotter next time to try it that way.
I cut all ingredients in half and then add to my food processor. with the chopping blade. I pulse to desired consistency. Sometimes we like a chunky salsa and sometimes we like it pureed. Up to you. I place them in my mason jars, vac seal them, place in the freezer when I make larger batches.
Note this batch last maybe a day in our house. MY husband loves it, loves it, loves it. If you can wait till the next day after refrigeration, the flavor is even BETTER.