Homemade Ricotta Cheese (Crock Pot)
Leslie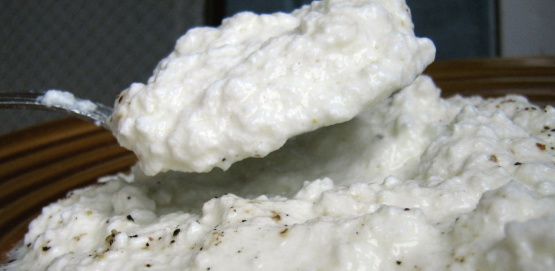 It's next to impossible to find ricotta cheese here in Mexico so decided to try the recipe in my Cruising Cuisine cookbook and it's WONDERFUL, and so easy too! Plan to continue to make my own Ricotta even when we get back to the states! I make mine in the crockpot, which pretty much eleminates the possibility of scourching the milk, however it can be made on the stove top, but watch it carefully.

Top Review by Leslie
OK, I cannot rave enough about this recipe! It couldn't be easier, and it worked perfectly! The measurements ended up being about 4 litres of milk to 8 - 9 tbsp of vinegar, and I ended up with 1.5 litres of gorgeous Ricotta Cheese! I did it on low in my crockpot, and just checked it with the thermometer every now and again. I actually missed the "golden time" and let it go to about 190. No problem, it still worked wonderfully! I strained it through a fine metal strainer and it's just perfect. I'll never buy expensive Ricotta again! Thanks so much for this amazing recipe, I'd give it 10 stars if I could! :)
Combine the milk and acid (white vinegar, lemon juice, Champagne vinegar, or white wine vinegar) in the crockpot and heat on low until temperature reaches 180 degrees F. (At 7,000 feet or above, bring it to 172 degrees F.) If heating on a stove top use a heavy pan and very low heat. It takes about 30 minutes. (Do not try to hurry this process; the milk might scorch on the bottom of the pan and you'll have brown specs in the cheese.).
Once the temperature has reached 180 degrees, remove from heat, cover and seet aside in a warm place (80 - 100 degrees F) for about six hours. The cheese is ready to strain when a solid curd has formed.
Strain through several layers of dampened cheese cloth or a fine metal strainer; discaring the whey (the watery residue).