Lori Mama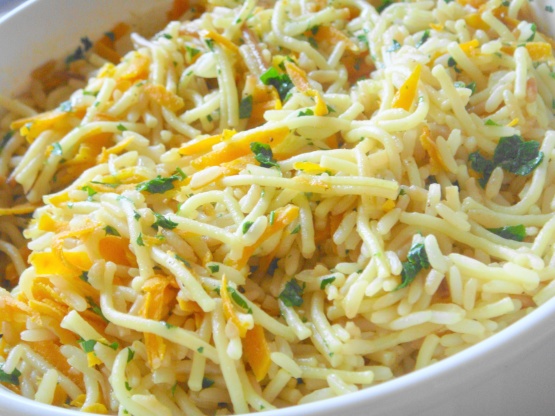 This is a big hit at my house and pretty cheap to make too!

If I didn't know it wasn't Rice A Roni, I wouldn't have known it wasn't Rica A Roni! We LOVED it! We usually eat the chicken and mushroom flavor, so that is what I attempted. I replaced the broken pasta with orzo because I already had it. I used 2 cups of water and a tablespoon of Better than Bouillon Chicken flavor, plus I added 2 or 3 dried shitake mushrooms (broken up) and some garlic powder and onion powder. Oh and a little dried parsley. I browned the pasta and rice together like the original, and cooked it for 20 minutes after adding the liquid. Also, when it was all done, I added a splash of Half and Half. It was AWESOME! Next time, I think I will add just a bit more bouillon. Awesome recipe! Thanks so much for sharing!
In medium skillet saute' broken spaghetti pieces in butter, stirring constantly, until the spaghetti begins to brown.
Add rice, stirring until the rice is well coated with the butter and the spaghetti browns a little more Carefully pour in broth.
Simmer until liquid is absorbed.