Homemade Pudding With Gourmet Variations
Pamela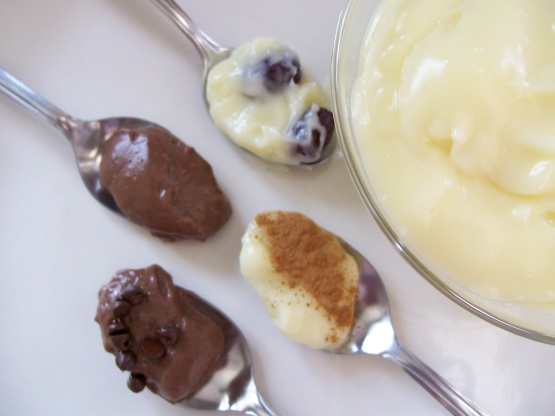 From Everyday Food magazine. This recipe is perfect for using up leftover egg yolks! Serve in wine glasses for a special touch :) Prep time does not include chill time of 3 hours.

This is yummy! I was having a craving for good vanilla pudding tonight, and I made the basic vanilla recipe as written. The only thing I would say is that when making just the basic vanilla without variations, it is a little sweet as written. Next time I will cut the sugar down to 1/2 cup. But for the other variations, it needs the extra sweetness for the other ingredients. This is a keeper, which I will definitely make again, eventually trying all the variations. Thanks Pamela!
Place a fine mesh sieve over a medium bowl and set aside.
First, whisk together sugar, corn starch, and salt in a saucepan.
Add milk gradually making sure to dissolve cornstarch. Add egg yolks and mix to combine.
Turn on the element to medium heat and place saucepan on the element. Stirring constantly until the first large bubble forms and sputters, and then reduce heat to low. Continue to stir constantly for one minute and then remove from heat.
Immediately pour the mixture through the sieve in the bowl to remove any lumps.
Stir in butter and vanilla into the hot pudding.
Place a layer of saran wrap over the surface of the pudding-this will prevent a skin from forming.
Chill for 3 hours or for 3 days. Before serving whisk until smooth.
For chocolate pudding: add cocoa powder with the sugar, corn starch, and salt and then proceed as directed.
For Chai Cinnamon Pudding: brew the two tea bags in 3 tbsp boiling water, set aside until cool. Squeeze out the teabags and reserve liquid. Mix the tea into the pudding after step 8 and sprinkle cinnamon on top before serving.
For Mocha Chip Pudding: Prepare pudding with chocolate variation. Then dissolve the espresso powder into 2 TBSP boiling water and cool. Mix the cooled espresso into the pudding after step 8 and sprinkle chocolate chips on top before serving.
For Rum Raisin Pudding: Combine 1/4 cup raisins and 1/3 cup rum in a small pot and bring to a boil. Remove from element and let cool completely. Remove raisins from rum and set aside. Mix the rum into the pudding after step 8 and sprinkle the raisins on top before serving.