Homemade Potato Tots ( Tater Tots )
Linajjac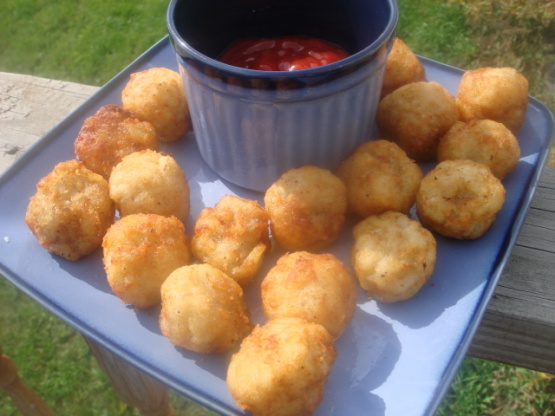 Add minced fresh onion if desired, these are great because you just prepare and freeze and just remove from the freezer when needed.

I live in the Netherlands - a TaterTot-free zone - so I had to find a substitute. Saw the problems with binding and made some changes, which worked-out very well: * Used a higher-protein bread flour instead and a small egg to bind it all * Used dehydrated onion instead. Less wet and it bound nicely. * Riced 6 potatoes and then roughly chopped the last two, so there were more meaty blocks of potato in the mix. In the deep fryer and it worked out perfectly! I also used some cracked pepper with my salt because I like the little kick. Really good recipe...Thanks!
Finely shred or use a ricer while potatoes are still hot.
Stir in flour, salt, pepper and onion (if using).
Heat 1/4-in oil in heavy pan.
Form into small balls and drop in oil; fry until slightly golden.
Drain on paper towels, then freeze for tater tot casseroles or to serve alone.
When ready to serve, remove from freezer.
Bake in single layers on a greased baking sheet; at 400 degrees until desired doneness.