alligirl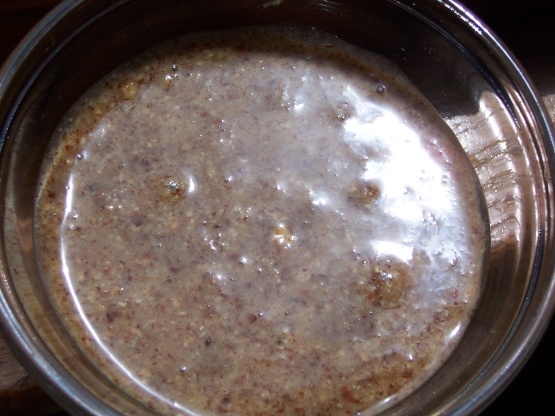 Just like peanut butter, but peanut-free! Made for a child who was allergic to peanuts but not tree nuts. For the pecans, you can roast them or do this raw with the bags of chopped pecans available in the baking aisle. Vegetable oil can be substituted with safflower, canola, etc.

I make pecan butter occassionally and have not needed oil in the past - more time in the food processor eliminates the need for additional oil - at some point of the processing/scraping the oil in the pecans release and is sufficient (could be varietal but give the pecans a chance to oil up on their own if you can)<br/><br/>Also - Try adding:<br/><br/>1 T of honey to every 2 cups of pecan pieces<br/>or<br/>1 T dark corn syrup and 1/2 tsp of vanilla extract to 2 cups pecan pieces.<br/>or <br/>1-2 T Grade B maple syrup. to 2 cups pecan pieces.<br/><br/>Takes pecan butter to a whole different level. You can divide a plain batch of butter and stir in the adjuncts (in smaller quantities) to see which you like the best..
If roasting pecans, place on a greased cookie sheet in preheated 350 degree oven. Spread them out in a thin layer to roast evenly.
Roast for 5 minutes, stir, then roast for another 5 minutes until you can smell them. Take care not to scorch them!
As soon as they come out of the oven, place them on a flat plate or piece of parchment paper to cool.
Add cooled pecans to food processor and blend on HIGH until finely ground, 2-3 minutes.
Add vegetable oil 1/2 tbs at a time and continue to blend until butter reaches desired consistency.
Add salt to taste.
Place in an airtight container and store in the fridge. Usually, this will keep 1 to 2 months if you used fresh nuts. Storing at room temperature will accelerate rancidification.