Homemade Peanut Butter Cookies!
alligirl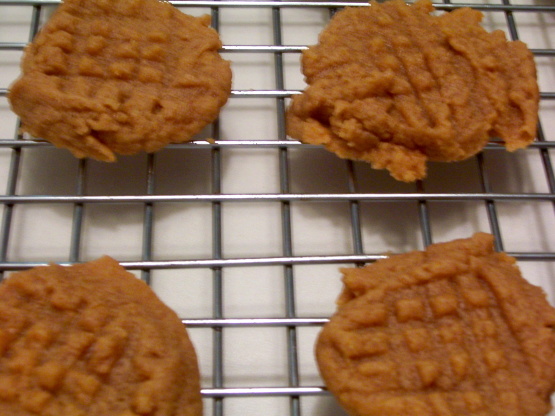 My grandma passed this recipe down to me when I was 13 and I have always gotten good reviews. It's super simple and quick to whip up before a party or BBQ. I know it sounds like the recipe is lacking something, but trust me on this one!

Delicious recipe!!! I made these with my son today because he loves pb cookies and he loved them!! We also made a 2nd batch and added banana and they were very yummy!! Great recipe overall. Thanks for sharing!
Preheat oven to 350°F.
Mix all ingredients in a mixing bowl by hand.
Drop dough by the spoonful on a greased cookie sheet.
Make a criss-cross pattern on the top of the dough with a fork.
Bake for 7-9 minutes.
Let cool on a wire rack or plate.