Nif_H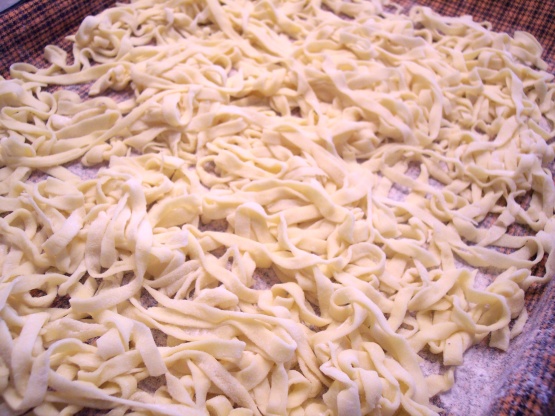 I never thought pasta could be so easy to make until I tied this recipe. Easy, fast and a large quantity from few ingredients. I like to serve this pasta with my Ukrainian Halushky recipe posted on this site at well. My children love just the pasta alone with onions sauteed in butter.

Top Review by Nif_H
Very nice! I like to make fresh noodles and used my pasta machine to roll it out and cut it. It didn't mention when to add the oil, but I just added it when I was kneading the dough. I used at least twice the amount of flour because it was quite wet. I cooked the pasta in salted water for about 4-5 minutes and tossed with a bit of butter and some fresh parsley. Made for my adopted chef for Fall PAC 2009. Thanks! :)
2

cups flour (white, or whole wheat)

1

egg, slightly beaten
3⁄4 cup milk
1⁄2 teaspoon salt

1

tablespoon oil, Canola
Place the flour on your worktop, and make a well in the middle.
Add the egg, and salt.
Slowly add milk, as you are incorporating the flour into the mixture in the middle (with a spoon, work the flour gently from within the well, all sides, until you almost use up all the flour) . The dough becomes homogeneous , at which point you knead it with your hands, to obtain the consistency of pizza dough. You might need to flour up your worktop a little more, to prevent the dough from sticking during kneading.
Place the dough on a floured surface, cover it with a tea towel, and let it rest for few minutes.
Flour up you worktop again, take ½ of the dough and roll it out, using a rolling pin, to 1/8 inch thickness. Use a knife, or a pizza cutter, and cut to desired shape pasta.
Sprinkle generously with flour, and toss gently together, so the pasta does not stick together, and let it rest.