Outta Here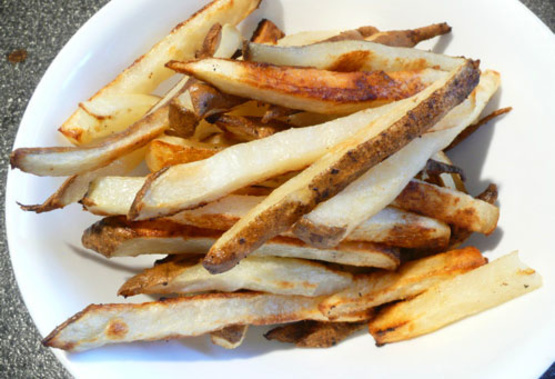 If you like chips, this is the recipe for you. :)

So delicious! Much easier and less messy than deep-frying. I love the clean taste of the sunflower oil, Thanks for posting!
1

kg big potato

3

tablespoons sunflower oil
Peel the potatoes and cut into fingerthick pieces. Try to have them all be roughly equal in size.
Wash the potatoe pieces in cold water and pat them dry using a kitchen towel.
Place in a big bowl, add the oil and the pressed garlic and mix thoroughly.
Put onto a paper-lined baking tray and bake at 200°C in the preheated oven for about 20-25 minutes, the turn them onto the other side and bake for another 20 minutes until chips are golden brown.
Sprinkle with salt and serve.