gerry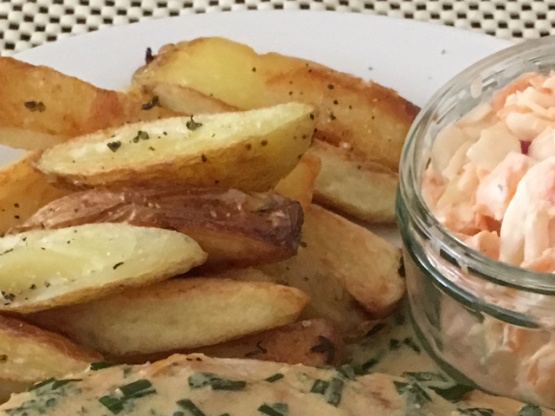 For the best chips use maris piper, desiree or king edward potatoes.

Delicious, crispy and no doubt less fattening than your standard chips. excellent, flavoursome recipe. I found it took about half an hour though to brown the chips properly. I sprinled with paprika.
700

g potatoes

1

liter boiling stock

2

tablespoons vegetable oil
Preheat the oven to 220 degrees celcius.
Cut the potatoes into thick chips. Plunge into a pan contaning the boiling stock and cook for 5 minutes, until just tender.
Drain in a colander. Allow to cool slightly.
Put the oil in a plastic food boc and CAREFULLY toss the chips in the oil.
Transfer the chips to a lightly greased baking tray and bake for 10-15 minutes, turning them once or twice, until golden and crisp. Sprinkle with paprika or salt to serve.