Homemade Microwave Popcorn
gailanng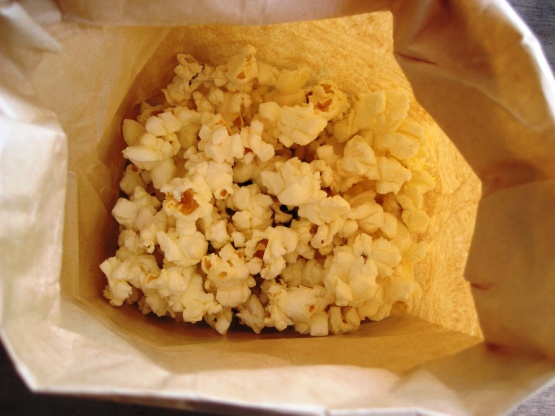 This was published in the Daily Kent Stater today, and I posted it so that I would not have to clip it. I thought others might be interested in it too!

What a snap! I did the butter spray and salt. Used Scotch tape to seal...no problem.Could re-use the bag.
Pour kernels into a small paper bag (standard lunch size is fine) and fold the top of the bag over twice to close (each fold should be 1/2 inch deep; remember the kernals need room to pop).
Seal the bag with 2 staples placed 2 to 3 inches apart. (Editor's Note: Using metal staples in a microwave can be hazardous, please consider an alternate method).
Place bag in microwave on carousel. Cook on high 2-3 minutes, or until the pops are 5 seconds apart. Pour in melted butter and salt and shake the bag to distribute.