Homemade Mayonnaise a La Craig Claiborne and Pierre Franey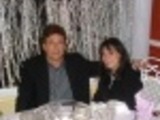 If you have never tried homemade mayonnaise, you should. It will turn the simply mundane into the simply elegant!
Directions
Put the mustard, egg yolk, and vinegar in a mixing bowl and start beating with a wire whisk or electric beater.
Gradually add the oil, beating constantly and rapidly with the whisk or beater. Add salt and pepper to taste.
Most Helpful
UPDATE. I tried this again today after buying DIJON mustard ( I had used whole grain Dijon BIG mistake) and it turned out BEAUTIFULLY. I did use an extra egg yolk and an extra tablespoon of Dijon. I can't wait to actually eat it in a salad This was what my first review was This was my first time making homemade mayo so maybe it was just me but this turned out very runny and oily. I had no dijon but used a whole grain dijon. As I was adding the oil it went nice and thick and I should of stopped then ( at around 1/2 -3/4 cup I think) I tried beating extra yolks( 3) and then adding but it is very runny. I might use it in a hot potato salad to not waste it LOL I am wondering if the oil measurements are correct Made for my 3 chefs fall 2008