Herb-Cat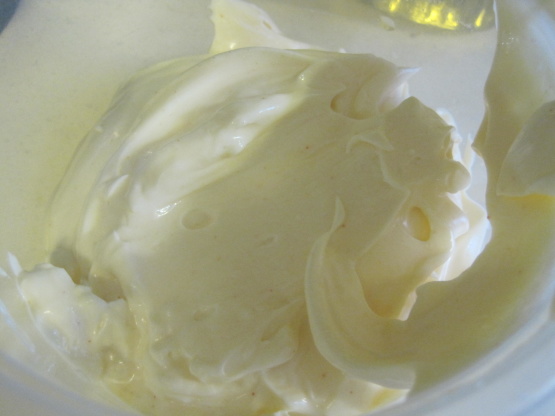 When you're out of mayonnaise, blend a batch of this Homemade Mayonnaise in under 1 minute. Because of the raw egg, this is not recommended for very young children or elderly persons, although washing the egg shell reduces the chance for contamination.

I incorporated a lot of the suggestions of other reviewers when I made this. I poured hot water in the food processor and left it for a few minutes, then dried before using. Also, I washed the egg in vinegar, rinsed and dried it before adding to the recipe. I omitted the paprika, reduced the salt to about 1/4 tsp (because many people said it was too salty with 1/2 tsp), used 1 tbsp vinegar and about 2 tsp lemon juice, and added 1 tsp sugar. I mixed all the ingredients (except only adding 2-3 tbsp canola oil) and processed on low for 2 minutes. I then stopped to scrape the sides, before continuing to process on low. The remaining oil I added in a continuous slow stream until it was gone and the mixture reached the consistency of mayo. I was worried early on that it wouldn't thicken, but it took most of the oil for the consistency to really take shape. This turned out so well, and tasted just like real Hellmann's mayonnaise. This is a great recipe and will be sure to make this again, thanks!
Serving size is 1 tablespoon. Recipe makes 1-1/4 cups mayonnaise.
Wash the outside of the egg shell with soap and water.
Rinse and dry.
In blender, add egg, dry mustard, vinegar, (optional paprika) and 1/4 cup oil.
Turn on low for 1-2 minutes.
Turn blender off, and scrape sides if necessary.
Turn blender on, and while it is running, slowly add the remaining 3/4 cups oil.
Blend until the consistency of mayonnaise.
Refrigerate in non-reactive container.
FOR VARIATION: Add 1/4-1/2 tsp of your desired seasoning, such as, basil, tarragon, or parsley.