Homemade Matzah for Passover
Cascadia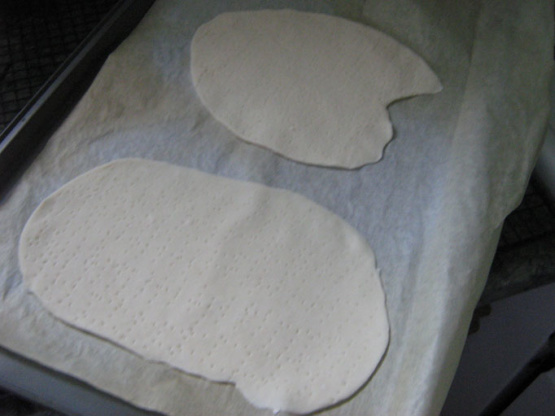 Home made Matzah is SO delicious - and so simple to make.

Just a note, matzah that is not made under very special conditions as in the type of water used, the type of flour used, and the time to make (less then 18 minutes from start to finish) with no air bubbles whatsoever which is done by using a special tool, cannot be used for Passover.
4

cups flour (can be half white or half whole wheat)
1 1⁄2 cups water

2

tablespoons olive oil (optional, oil will make it soft like a tortilla, No oil it will be a cracker) (optional)
Combine ingredients and knead for ten minutes.
Roll into a ball, cut in half, then cut each half into 8 pieces.
Roll out each piece as thinly as possible into ovals,.
pierce with a fork several times, to eliminate air holes,.
and place on baking sheet covered with Parchment Paper.
Bake at 450 to 500 for about 5 minutes, or until slightly browned.